Take a look at the 650s section in a public library and you'll find a selection of time management books. Depending on the focus, you may find additional titles in other sections of the library, e.g., a book with more of a psychology focus might be in the 150s, while you might find some others in the 300s. Take a look, you may find a method that works well for you. For me, one of the key elements is focusing on the next step, that one thing I can do right now to move a project forward.
Overwhelmed? Find the Next Step
With so many possible things to do each day, how do we make progress? It's something that we do automatically in some areas of our life, and struggle in others. Whether as a librarian or as writer, I always have more projects than time. If I start listing them all, it is easy to get overwhelmed. Setting aside major parts of my life, and looking at my writing and publishing career, a few things on my list are:
Write new books, with titles planned across several current series, new series, and some standalone titles. I have literally dozens of books that I want to write—and that's assuming I don't come up with any new ideas (which happens constantly).

Add to that the short stories I want to write.

Publish new e-books of my backlist and current titles. I've released a couple new editions recently, I'm busy on the next title which is a new release, but I've got about twenty books to do.

That doesn't count the print editions in paperback, hardcover, and large print.

Write this blog, because I enjoy sharing what I'm learning and my journey. I hope it helps you. I know it helps me.
Update and manage my website, SEO, and the rest of that stuff.
Study, learn, and practice to become a better writer. I read constantly, fiction and non-fiction, and continue working on becoming a better writer.
I could go on. That's only a portion of the things on my plate. I want to improve as an illustrator (currently working on getting t-shirt designs). Listing it all out this way makes it sound and feel overwhelming. The fact is, I can't tackle all of that at the same time. At any point, I have to pick the next step, the thing that I'm going to do right now.
Avoiding "Should" When Picking the Next Step
Faced with a long list of projects and things to do, how do you pick the next step? If you struggle with making the decision, it can be daunting. Fortunately, people are generally pretty good at deciding on the next step. We're not so good at handling what we think we "should" do, or how much we "should" be able to get done. Have you ever done this?
I only wrote 100 words today—I should be able to write much more!
I know I should work on my book—rather than spending time walking.
I shouldn't have to give up my time to write—except no one respects my writing schedule.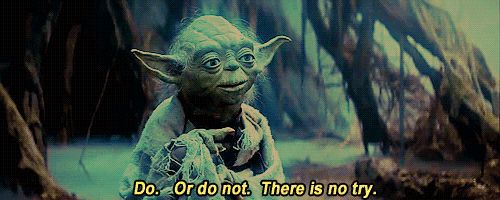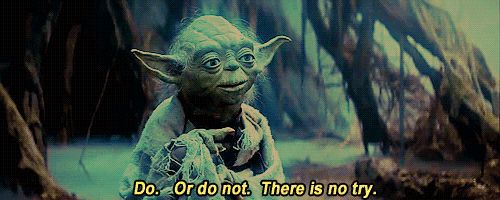 No try, and no should. You do a thing or you don't. In my Full Focus Planner, you're encouraged to choose your weekly big three items, and each day you pick your daily big three items. Together they build to help you reach your goals for this quarter and the year. The daily items are the next steps I can take each day. I'll don't try to do them, I do them or I don't. It'd be easy to fall into the notion that I should be able to accomplish those items every day and feel guilty or feel like a failure when I don't.
Instead, aim for mindfulness when deciding on your next step. Consider your energy levels, your location, and what excites you at the moment when choosing what to do. Have fun!